Extendicare Leduc residents attract local coverage for cultivating kindness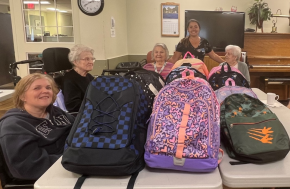 A group of residents at Extendicare Leduc in Alberta have been featured in their local newspaper for spreading kindness.
The article in The Leduc Representative highlights the "Cultivating Kindness" group at the long-term care home. The group meets each month to find ways to give back to their communities inside and outside of Extendicare.
"The residents absolutely love being a part of this group," explains Haley, the Recreation Therapist who helped the group get started after some residents approached her with the idea earlier this year. "They recognize that our little actions can make a mighty impact in someone's day."
"Cultivating Kindness" includes ten residents whose ideas have helped their local community in different ways. They have collected school supplies for a school support program through the food bank. One resident was quoted in the article saying, "This will make some families and some kiddos really happy!"
The group has also supported the community humane society. The residents have also shared positivity and kindness by colouring and decorating photos for Nurses' Week.
"I love seeing their enthusiasm," says Haley. "Every meeting they come up with new and fresh ideas."
As a Recreation Therapist, Haley also sees positive social and health benefits for the residents as they collaborate on cultivating kindness projects, adding it can help build bonds between residents and the community around them.
"Many of these residents were once volunteers within the community who advocated for different causes and organizations," Haley explains. "The Cultivating Kindness group can give them the same sort of feeling of being part of something bigger and engaging in new friendships, that can help give individuals a sense of purpose."
Read the full story: Extendicare Leduc residents cultivate kindness