Celebrating Black History Month | Rekia's story: An honour to care for seniors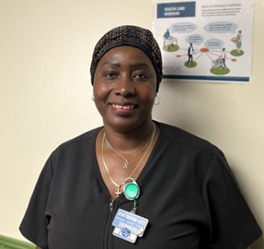 Continuing our Black History Month series, we spoke with Rekia, a Personal Support Worker at Extendicare Scarborough, who shared a personal story with us.
The first half of Rekia Omowumi-Azeez's surname means "I love children", but she's just as passionate about caring for seniors.
When she moved to Canada from Nigeria 27 years ago, the concept of long-term care was strange to Rekia. Families in Nigeria care for their parents and grandparents at home and would consider it shameful to ask someone else to look after them. With this mindset – but without judgment – Rekia believes in treating every resident as family.
Rekia arrived in Canada with a background in hospitality and culinary services. She started with Extendicare 22 years ago in laundry and housekeeping. Determined to move to a direct care role, Rekia juggled work, school and the birth of her two children to earn her PSW qualifications.
"I love my job with my whole heart," she says. "It requires a lot of patience, but it is a privilege."
When she reflects on Black History Month, Rekia tells a story from her early days of working in Canada. One boss ridiculed her as being from "slave country" in front of the entire team, when she addressed him as "sir" – a sign of respect in Nigeria. It left her feeling both angry and ashamed.
"Black history is not all about slavery," Rekia says. "It is about culture. It is about celebrating the beauty of each individual's history."
Celebrate Nigeria
Population – 217 million people – Africa's largest
Official language– English, but hundreds of languages are spoken in this diverse nation, such as Hausa, Yoruba, Igbo, Fula and English Creole
Key exports – Crude oil, cocoa beans and rubber
Seeing double – Nigeria has the world's highest rate of twin births
Claim to fame– Nicknamed "Nollywood", Nigeria has the world's second-largest volume of movie production